29 Fitzwilliam Square, Dublin 2
Sale Agreed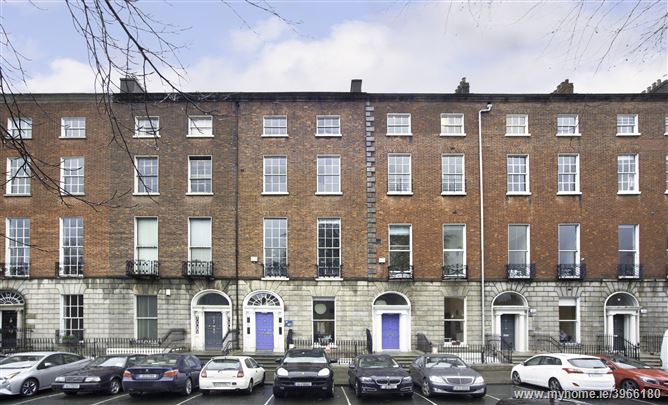 Description
Number 29 is located on the favoured south side of Fitzwilliam Square in the heart of Georgian Dublin.

Every conceivable amenity offered by the city centre is within easy access. Public transport links include LUAS (Green Line), DART and multiple Dublin Bus Routes.

Although many Fitzwilliam Square properties are in office use although there has, in recent years, been an emerging trend of returning the magnificent Georgian buildings to their original residential purpose.

Description
Number 29 Fitzwilliam Square is one of two interconnecting, four-storey over garden level, terraced Georgian buildings with a rectangular site to the rear which currently includes a two-storey over basement mews office and parking for approximately 3 cars. The gross internal area of the front building is c. 550 sq.m. (5,920 sq.ft.).

The building is currently rented to an English Language School (in conjunction with the adjoining No. 30). Full vacant possession will be available in January 2018. Although the properties have been in commercial use for many years, they retain an array of beautiful, original features including ornate centre pieces and cornices, beautifully detailed door surrounds, original bow windows (number 30), original doors, timber sliding sash windows and other period details.


Planning Permission has been granted for the demolition of the mews offices, the construction of an exceptional mews house and for the separation of the front building from the currently interconnected No. 30. The permission also provides for the return of the building to office use. It is, however, an ambition of the City Development Plan to see properties such as these return to their original residential use. It is likely, therefore, that planning permission to change the front buildings back to residential would easily be obtained.

This is a unique opportunity to own two houses on Fitzwilliam Square.
BER Details
BER: Exempt
Accommodation
Hall Floor
Entrance Hall
Reception 23.6 sq.m.
Room 22 sq. m.
Store Room 7.6 sq.m.
Staff Room 16.2 sq.m.

First Floor
Room 19.6 sq.m.
Room 18 sq.m.
Room 23 sq.m.
Room 22 sq.m.

Second Floor
Room 20 sq.m.
Room 16.5 sq.m.
Room 24.5 sq.m.
Male & Female Toilets

Third Floor
Room 38 sq.m.
Room 31.4 sq.m.
Male & Female Toilets

Basement
Room 9.7 sq.m.
Room 18.7 sq.m.
Open Plan Room Area 29.7 sq.m.
Safe 3.7 sq.m.
Open Plan Area 35 sq.m.
Total Gross Internal Area: 550 sq.m. (5,920 sq.ft.)


Mews Offices
(Two-storey over basement) 247 sq.m. (2,659 sq.ft.)

Proposed Mews House
Three- storey over basement, four bedroom house c. 222 sq.m. (2,390 sq.ft.)